Why the Conservative-DUP deal spells bad news for the environment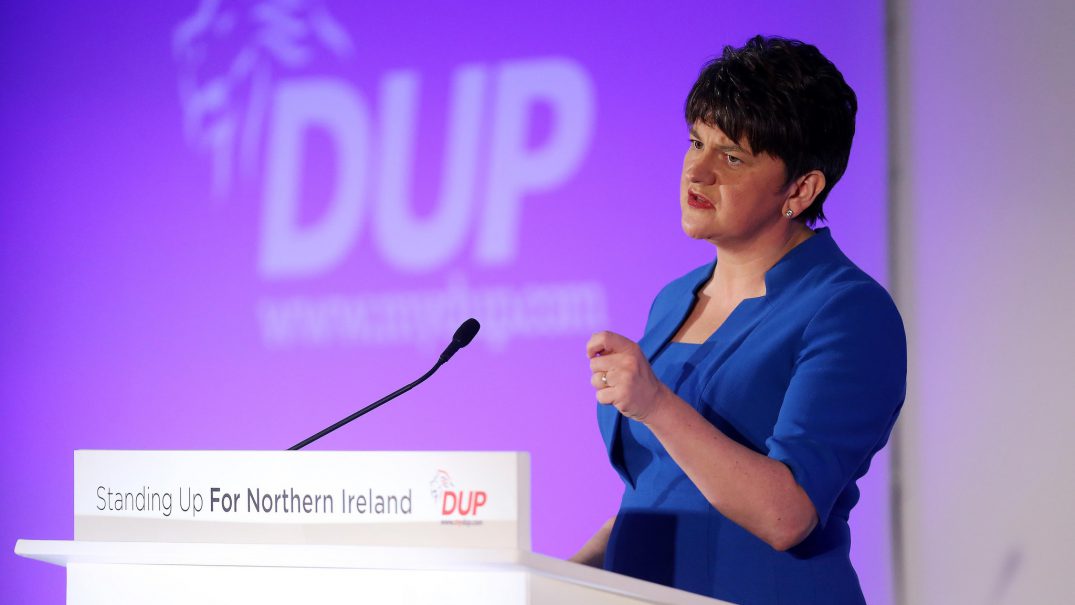 When British prime ministers go into negotiations with the DUP, they find themselves giving undue consideration to some very skewed priorities.
Back in 2006, Tony Blair was brokering the deal between DUP and Sinn Fein that would become the St Andrew's agreement. The DUP brought him what would become known as a "shopping list" of demands that they wanted to see implemented if they were to go into government with their former enemies. Amongst their concerns about legacy issues arising from the Troubles was an obscure request about a proposed development at the Giant's Causeway.
The aspiring developer who wanted to build a new visitor's centre at the tourist attraction was a man called Seymour Sweeney. A constituency planning matter brought up in an international peace settlement seemed like a rather minor request, but it would lead to a scandal that would bring down Ian Paisley Senior as First Minister, barely a year into the job he'd worked towards his whole life. Sweeney's ambitions were a direct threat to plans to restore the National Trust visitors' centre. UNESCO were alarmed when it was revealed that Paisley Jnr had falsely claimed that they had personally told him that they were happy with Sweeney's proposals. Northern Ireland's only World Heritage site was now under threat of being delisted.
It would turn out that Sweeney was one of Ian Paisley Junior's closest friends and business associates, although Paisley was at first rather coy about their relationship.  In a foretaste of the expenses crisis that would engulf Westminster a year later, it transpired that the Paisleys' joint constituency office was costing the taxpayer £56,000 a year in rent, and that Sweeney was a director of the company that had been set up to buy the building and act as landlord to First Minister & Son.
The intervention on behalf of Sweeney's business interests during negotiations to secure peace for Northern Ireland was inferred by many as patronage in return for services rendered.  This public perception was enough to trigger the palace coup that installed Peter Robinson in the Rev Dr's place.
It was the memory of this affair that led me to cast a sceptical eye over the Conservative-DUP financial agreement as soon as it was released. I knew that there could be potential threats to environmental justice.
What immediately jumped out wasn't much of a surprise, but could amount to an attack on Belfast's urban working class. You see, apparently Northern Ireland's suburban commuters need to get to work faster. That's the first item on the agenda of the financial settlement attached to the agreement announced on Monday 26 June 2017.
This is the cost of needing to negotiate with the Northern Ireland parties when you need something from them. Not that we don't need our fair share of help from the UK government. Like every other part of the country, Northern Ireland is suffering from a chronic shortage of adequate housing for our poorest citizens.  Just like in Great Britain we are failing to provide the minimum standards of breathable air for the residents of our towns and cities. All this costs money, and solving these problems is incompatible with austerity.
Yet Theresa May has been negotiating as a priority the upgrading of Belfast's urban motorway, instead of finding the money to stop another Grenfell. Northern Ireland is one of the poorest areas of the UK, and we desperately need more cash. But the first real problem with this financial settlement is that so much of the money coming our way will go on this one tiny stretch of road, when every previous attempt to use new infrastructure to ease Belfast's chronic congestion has given us only temporary respite.
Eventually the lanes will clog up again – as they did on the Westlink in the noughties – and the idling traffic will spew even more unlawful quantities of nitrogen dioxide, particulate matter, and climate trashing carbon dioxide into the air, mostly affecting some of the country's most economically deprived communities. Belfast has two of the ten most congested thoroughfares in the UK. It has been emptying of residents for decades, and yet tens of thousands of us still need to do our jobs in the city centre every day.
Our uniquely permissive planning system let too many of our citizens build their homes in the open countryside. This isn't just a legacy of the Troubles, but a reflection of a polity whose environmental and planning governance are far behind the rest of the UK. A dispersed, hyper-suburbanised population cannot easily be connected via mass transit to a highly centralised economic hub, and so our politicians and civil servants are locked into a 1960s vision of transport, with the needs of the private car trumping all other means of conveyance. It is this mindset that the DUP brought to their negotiations with Theresa May.
The perimeter of the city centre is already blighted by a grey donut of multilane roads cutting through what used to be tight lattices of streets that fostered cohesive inner city communities who felt connected to the beating heart of Belfast. The remnants of those communities now sit on the wrong side of the tarmac, feeling the city turn their back on them. They suffer disproportionately from the exhaust fumes of the suburban and rural dwellers who drive past them every day. Of all the things that the DUP could have negotiated on our behalf, the facilitating of unsustainable settlement patterns and transport policy was certainly not in the national interest.
I have no doubt that prioritising the rights of commuters is environmentally unjust. I am also sure that another key item in the new "shopping list" is potentially disastrous. The term "Enterprise Zones" evokes a Silicon Valley vision of tech start-ups and disruptive innovation.  This is not what they're likely to mean for Northern Ireland.
A similar sounding idea was first floated during the lead-up to the G8 summit in County Fermanagh in 2013. During a meeting with David Cameron at Downing Street, First Minister Peter Robinson, and deputy First Minister Martin McGuinness announced their plans to introduce "Special Economic Planning Zones." What this meant in practice was that OFMdFM (the Office of the First Minister and deputy First Minister) could draw a circle right in the middle of County Tyrone and declare it, for example, a gold mining free-for-all. A deregulated klondyke for anyone living nearby, with all the usual protections of the right to participate in the planning system suspended.
A planning bill that was passing through the Assembly at the time was hijacked by Sinn Fein and the DUP with amendments that would have made these special powers a reality. Then environment minister, Mark H Durkan, was forced to withdraw the entire bill from further passage through the Assembly in order to prevent this power grab from progressing. Could these "Enterprise Zones" be yet another attempt to experiment with hyper-deregulation? Is Northern Ireland going to be a guinea pig for the complete suspension of environmental rule-of-law?
What we do know is that the Conservative-DUP confidence-and-supply deal was agreed by a prime minister desperate to defend her position after a shock election victory, and that she was negotiating with a team of seasoned deal-makers who have a history of coming at these discussions sideways.
I cannot say from what I've seen so far if there is any sectarian imbalance in the financial settlement, and I doubt strongly that the DUP or the Tories would make the mistake of letting this happen. There is already enough concern about how this deal threatens the British Government's status as a neutral arbiter in the ongoing peace process, without scoring the own goal of handing more goodies to one side than the other.
Concerns like this distract us from looking out for other potential hidden agendas in the new governing arrangements at Westminster. We should not cry foul about an extremely impoverished part of the UK getting a sudden injection of cash, or keep caricaturing the DUP as Cromwellian fanatics and killjoys. But we do need to cut through the murky detail, to the hidden background of this deal.
It took multiple Freedom of Information requests in 2007/8 to uncover the St Andrew's scandal. It is incumbent on all the citizens of the UK to be sceptical and vigilant as the new supply and demand regime beds in at Westminster.