Why the Sainsbury's-Asda merger is bad news for everyone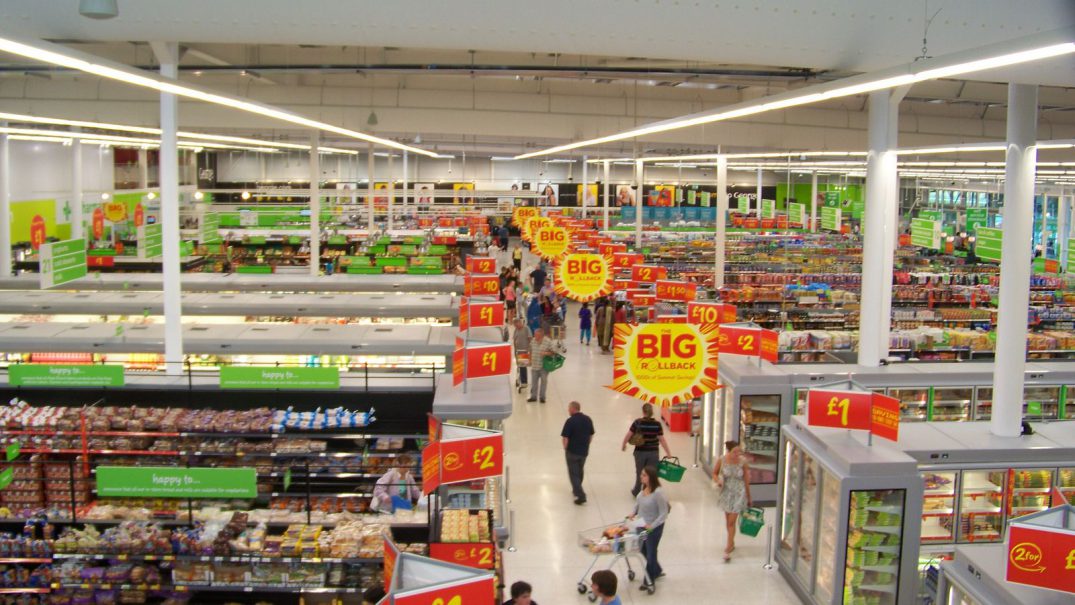 The Sainsbury's-Asda merger is a perfect illustration of the accelerating race to the bottom in the grocery retail sector. It was a bombshell, and unless the rules – on competition, planning, environment and worker and consumer protection – are greatly enhanced and effectively applied, a significant part of society is likely to be badly hurt by this 'mega merger'.
Combined with Liam Fox's new UK trade deals, it could mean our shelves being flooded with obesity-fuelling Twinkies and more farmers going bust after Brexit. To avoid such an outcome, the government must decide whether it actually wants to nurture affordable and high quality food, good jobs and healthier waistlines.
To recap: Sainsbury's is likely to become Britain's biggest supermarket after agreeing a deal with Asda's owner, Walmart, to buy it out. Walmart will then own 42% of the new mammoth, which will then control around a third of the UK grocery market share. Tesco has around 27%. The two companies involved have 'suggested' that food prices could fall by up to 10% on some popular items if the deal is approved, and they have also pledged not to close stores or lay off store staff. That sits in the realm of the unbelievable. Somebody, somewhere will always have to pay.
The way in which the news of this buy out was greeted was notable. In an urgent Parliamentary debate, Business Minister Andrew Griffiths more or less gave it the government's blessing, saying that many high street names have been lost in recent years and that it is just "two businesses trying to get ahead of the curve and future-proof themselves in a very challenging market". In response to one MP's concerns about loss of stores in his constituency, the minister responded by saying that "the honourable member is spoiled for choice". Spoilt! At least some MPs are concerned and on the case.
Other commentators felt this was all but inevitable in the face of new competition from Aldi and Lidl, as well as Amazon's entry into grocery retail with its buy out of Wholefoods (and Amazon itself was seen recently circling around Waitrose). Yet there was also a resigned sigh about our pitiable competition law – the UK's Competition and Markets Authority won't have the teeth to stop such a blatant breach of what should be the cornerstone of our competition regulations. The Tesco-Booker buy out already proved that.
But maybe planning regulations can keep retail diversity in the high street, or make sure the supermarkets contribute to communities? Forget it.
The catastrophic impact which this deal could have on whole swathes of society is being ignored, including 330,000 workers and thousands of farmers facing even fewer powerful buyers and more squeezed prices. Then there are the millions of customers who will have less choice over what and where to buy, and who will walk along ever more ghostly high streets.
The supermarkets claim that they can slash prices without cutting jobs. Let's be clear: that cut will have to come from somewhere, namely the farmers and growers and others in the supermarket supply chain. Supplier care should be top of mind. We need to have a diverse supplier network – from UK food producers to global fashion suppliers – paid enough to be able to pay workers well and to grow the raw materials safely and sustainably, with high standards of safety and human and animal welfare.
The New Economics Foundation have done some preliminary, and probably highly conservative, calculations of supply chain jobs losses. They found that a 5% cut in the price paid to these suppliers could lead to a loss of more than1,200 jobs in the UK, while a 10% cut could lead to a loss of up to 2,500 jobs. The knock-on costs in the communities where these suppliers buy their services or send their children to school are as yet unknown. The report out today from the UK's labour enforcement agencies on worker abuse and slavery shows that we are already going backwards in terms of worker protection. Supermarket supply chains are one of the problems.
The Sainsbury's-Asda merger just reinforces the urgent need to address the acute lack of fairness in grocery supply chains. Yes, we have an adjudicator overseeing the top grocery retailers to check they don't breach the Groceries Code of Practice. It's good, but it covers only direct suppliers, not those – such as farmers – who supply food via intermediaries. It was very disappointing that this was not rectified by the government in 2018, which they could easily have done, to protect farmers against unfair trading practices and the uncertainties associated with Brexit. Even so, the Groceries Code of Practice does not tackle prices and costs transparency. Less and less of the value we consumers pay in the shops is reaching those who need it. That needs to change.
Many food suppliers are already struggling to make a profit, and are facing uncertainties ahead with Brexit. New international trade deals that may undercut their costs and compromise standards. Do we really want more meat scandals, slavery, miserable animals and environmental harm in our food system?
Sainsbury's and Asda say the merger will "create significant opportunities for suppliers to develop differentiated product ranges, become more streamlined and to grow their businesses as the combined business grows." Some suggest the higher standards of one company could bring the other company up. I'm not convinced. I don't have space here to detail the many systemic ways in which both companies fail to deliver on environmental, social and animal welfare promises. But two things need to happen:
Alternatives are desperately needed and should be actively nurtured. This means ensuring that new food enterprises can access capital, business support and advice, and that local planning and investment decisions favour diverse retail developments and support new community models like Community Supported Agriculture, food co-ops and Better Food Traders. It also means helping farmers to be better at marketing and finding new markets, including being able to access the overly complex public procurement systems for schools and hospitals, care homes and the armed forces. As the National Farmers Union (NFU) has suggested, the public purse can and should support local and sustainable suppliers.
Competition rules must be strengthened, and assessments should be based on the public interest not just on choice and price. Any merger should be judged against more than just short-term consumer interest, and should consider a wider range of issues including supplier welfare, workers and impact on local retail. The Competition and Markets Authority must do more than ask for a few stores not to be sold off and assess a wider breadth of impacts, but right now it is not able to do so. We need more analysis from BEIS and Defra, as well as parliamentary inquiries and action. Finally, we need to establish a regulator to complement the Groceries Code Adjudicator and support fair trading practices along the whole of groceries supply chains.
Without the twin approaches of nurturing diversity and curbing dominance, the race to the bottom will leave most of us poorer.