Five demands for climate change justice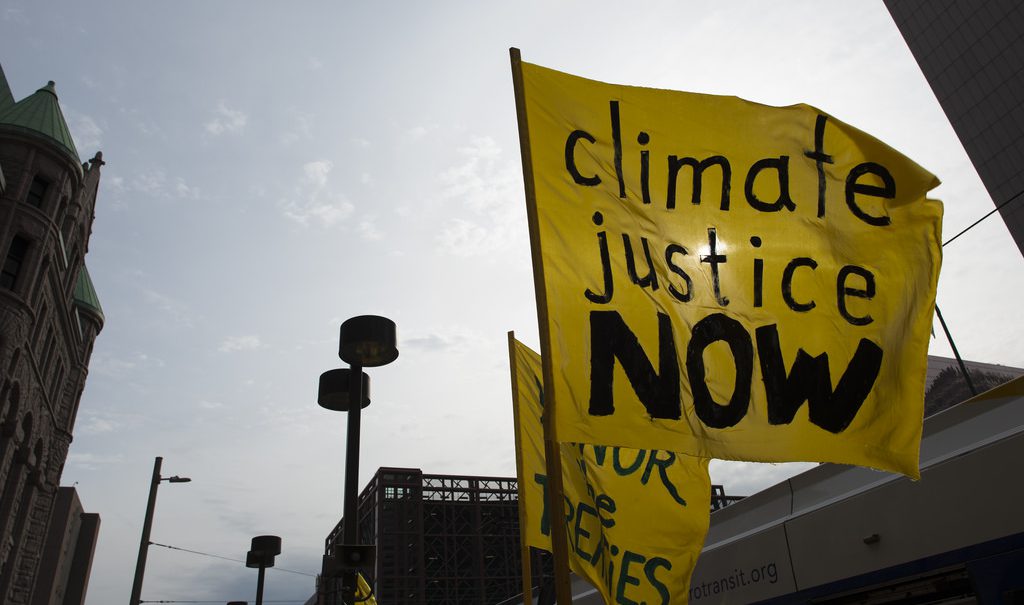 In the run-up to the second anniversary of the Paris Agreement and in parallel to the UN Climate Convention in Bonn, climate justice campaigners and lawyers from six continents met to co-ordinate five clear legal demands for local, regional and national governments. The five demands are that legislators:
Acknowledge the climate emergency in national constitutions
Recognise that failing to reduce greenhouse gas emissions knowing the contribution these gases make to climate change is an act of ecocide
Provide all citizens with the legal tools they need to obtain climate justice
Introduce a legal requirement that greenhouse gas emissions associated with imports also be included in national and regional reduction targets
Better regulate the activities of multinationals in particular by ending subsidies for fossil fuels.
Why these five?
Local, regional and international law still prioritises private financial interests and a narrow definition of unsustainable economic growth over the public interest in minimising climate change. For example, it is estimated that current and planned airport expansion projects are estimated to involve USD1 trillion in investment over the next four decades, yet legal opposition to airport expansions on the ground that these will automatically increase greenhouse gas emissions is held to be an insufficient reason to limit this expansion.
Although the climate is one of the natural commons along with air and water, Marie Toussaint of 'Notre Affaire à Tous' says:
"What is really surprising and striking is only 100 companies are responsible for over 70% of emissions since 1988 when we already knew [about climate change] and still they are not punished for anything. We cannot prevent, we cannot repair. We cannot punish the people who destroy our planet. For this we really need a crime of ecocide to be recognised. We need this to first prevent them and then to condemn them for destroying the planet for other people."
Legal recognition that knowingly emitting greenhouse gases is an act of ecocide will enable citizens to prevent, punish and obtain damages from those responsible. There is still no adequate legal mechanism for victims to defend their rights, obtain reductions in greenhouse gas emissions, hold those responsible to account or obtain compensation from them. The United Nations Environment Programme Law Division in its most recent review of priority areas for action noted that:
"[T]there is no international legal framework for the protection of the atmosphere of the planet in its entirety."
Although this review pre-dated the Paris Agreement in December 2015, the 'soft-law' nature of the Paris Agreement still falls far short of establishing a crime of ecocide under International Criminal Law and fails to make the link between climate change and human rights law.
The inclusion of greenhouse gas emissions embedded within imports will prevent developed states from claiming they are meeting their pledges under the Paris Agreement whilst still contributing to an overall global increase in emissions. For example between 1990 and 2014 emissions produced within the EU decreased by nearly 30% whereas emissions produced in China increased by 310%. During this period EU imports from China increased considerably – between 2006 and 2016 alone the value of these imports increased by 75%.
Regulatory regimes remain weak and states continue to subsidise activity that contributes to climate change. The European Parliament's own 2017 analysis of fossil fuel subsidies estimates that they are currently between 39 billion to over 200 billion euros per year, and makes the following admission:
"These significant figures indicate a lack of coherence between the EU's energy and climate mitigation – correct price signals are important for Europe's climate policy goals, hence phasing out fossil fuel subsidies is important in order to help align energy prices with environmental goals."
Why make the 5 demands now?
Time is running out. In November the World Meteorological Organisation forecast that 2017 will be the worst year for the effects of climate change. The social, political and financial costs of climate change are escalating. In particular, extreme weather conditions, climate change refugees and the nativist populist backlash against migrants are increasing. Although it is still difficult to estimate the total number of people already harmed by climate change a number of organisations, for example Oxfam's November report on displacement by climate change, are beginning to compile data. Even though the UN's Refugee Agency (UNHCR) wanted the issue to be constructively addressed in Paris in 2015 we are still waiting for a joined-up approach to the two crises.
It is two years since the Paris Agreement, but according to reports published in November by the international research consortium Global Carbon Project, global CO2 emissions from fossil fuels and industry will rise by 2% this year. Emissions rose in 101 countries that together represent 50% of the emissions. China, the largest producer of CO2 emissions, is expected to increase its emissions by 3.5% this year.
We are running out of time to answer the key questions. Who is going to pay? How much are they going to pay? And when are they going to start paying?
The actions of the recently elected Emmanuel Macron are a good illustration of the way in which our attention is being diverted to 'investment' and 'business opportunities' while the question of compensation for loss and damage suffered to date is being ignored. President Macron has positioned himself as a world leader on climate change. He co-hosted the One Planet Event on the second anniversary of the Paris Agreement to "find new ways of financing the adaptation…and of ensuring climate issues are central to the finance sector." However critics point out that he has still not yet accepted the underlying need to change the French legal system.
President Macron is not the only politician to avoid awkward questions, and of course this squeamishness is the underlying reason for the 'soft' voluntary nature of the Paris Agreement. It may be that turning a blind eye to past and current injustice is a price worth paying to begin to turn the system slowly around, but many are concerned that simply promising to make green investments in the future is not enough.
For example, the European social model has to a degree mutualised the risks of unemployment and health but not environmental damage. Marie Toussaint explains why this needs to change:
"Today when we look at environmental impact then we see that it's all individual insurance that can cover what happens and then we have some systems, like the EU funds, that they put when there is a natural catastrophe but first of all you don't have anything for the slow destruction of the environment … Then, with individual insurance the contributions are paid by potential victims but there is no way for the people who caused the damage to contribute. We don't have the 'polluter pays' principle [Principle 16 of the 1992 Rio Convention on Environment and Development]. We really need to have that settled at the national, European and international level.

"The heads of state are beginning to say 'OK for the moment we're covered but at some point global warming will prevent us from paying because we won't be able to pay any more for this big, big destruction.' At some point the insurers won't be able to pay anymore and we don't have this solidarity and it's going to be worse and worse for the victims. So we really need to have this new solidarity put in place at an international and at a national level."
The UN Climate Conference in Bonn has led to several initiatives to provide some financial support to some victims, but there is still no move to assess the total costs of climate change. This includes the loss and damage to private and public property, health, ecosystems and cultures that depend on them; the current ongoing costs of dealing with this loss and damage; and the current ongoing costs of adapting and becoming more resilient to the future consequences of climate change. We also need to ask who is currently benefitting from the funds that are being made available.
Even when wealthy governments do provide state aid it is usually used to redevelop areas previously destroyed by an extreme weather event, which is therefore at high risk of being destroyed again in the future. Citizens can then become trapped by the state in an unsustainable and worsening cycle of extreme weather event/destruction/rebuilding. Such state aid can even have the negative consequence of fuelling construction booms in luxury coastal real estate, as has happened in the five years after Superstorm Sandy hit the US New Jersey coast. Finally, state disaster aid is always vulnerable to being cut or withdrawn on the grounds that it is needed to fund other state expenditure, so it cannot act as reliable compensation for climate change loss and damage.
For those who have already experienced loss and damage, talking about future investments misses the point that climate change justice is not only about money but fundamentally a question of changing the system. A culture that protects and prioritises the right to emit greenhouse gases over all other rights must change. The five demands of legislators outlined above are a necessary part of bringing about this change.
How to find out about your nearest legal proceedings?
The organisers of the five demands are all involved in legal action to obtain climate justice. Examples of ongoing legal proceedings are: the Our Children's Trust cases in the US; the Global Legal Action Network crowd-funded case in the European Court of Human Rights, and the Peruvian Farmer's case against the German Energy Company RWE.
The LSE's Grantham Institute is collecting a database of non-US legislation and litigation. The largest database of climate change litigation is held by Columbia Law School's Sabin Centre which includes both US and non-US litigation. All citizens are asked to participate in any local climate change legal proceedings.