Resisting the gig economy: the emergence of cooperative food delivery platforms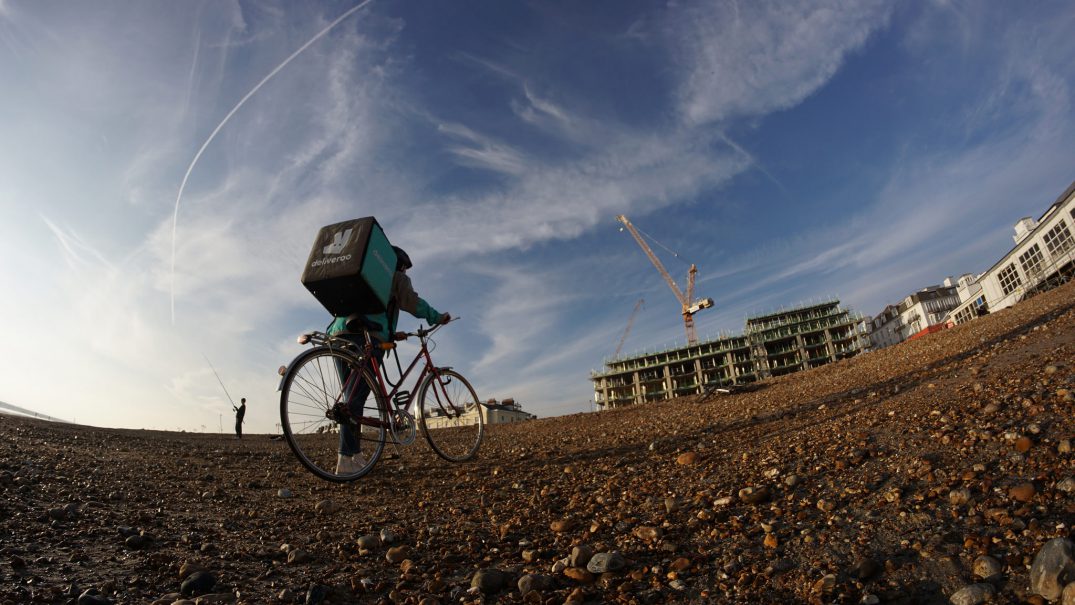 In the UK seven million people from working households are in poverty, and real wages have seen a 10.4% drop in the last decade (more than anywhere else in Europe). At the same time the 1,000 wealthiest people in the country got richer by billions after Brexit.
Platform companies are helping to widen the gap between rich and poor by paying poverty wages while producing bubbles with unjustifiably high asset prices and low productivity. Alisher Usmanov, the fifth richest man in Britain, initially made his money from mining steel and iron ore but has now grown his fortune by investing in companies such as Spotify and Airbnb. Deliveroo doesn't own its restaurants or employ its riders, but is worth more than the UK's second biggest food chain Wetherspoons.
Deliveroo saw its losses increase by over 300% in 2017. But that didn't stop its founder giving out £4.5 million in share bonuses to directors and treating himself to a generous 22.5% pay rise, all while Deliveroo's riders are denied a minimum wage, sick leave and holiday pay. With profits from share ownership going to a small minority, coupled with stagnating wages, the wealth gap between labour and the owners of capital in the economy is ever diverging. It's time to think not just about a fair share of income but also fair distribution of ownership, something cooperative food delivery platforms could be a leading example of.
Couriers in Europe
After the first strikes of UK Deliveroo riders in 2016, mobilisations rippled through to France, Spain and Germany, Italy, Belgium and the Netherlands, with strikes taking place in Bologna only two weeks ago. In Germany couriers began organising with the anarcho-syndicalist Free Workers Union (FAU) last year.
The FAU provided a horizontal and open space for the Deliverunion campaign to flourish, mobilising over 100 riders to direct action and winning a pay bonus per km. With no paid staff or organisers, support came from members from other sections, such as primary school teachers and carers, a reminder that unions don't act or make decisions in themselves but that workers act in their name and with their resources.
The FAU union has gathered a group of developers to create its own online platform, where riders can login to discuss what to include in their collective agreement and vote on it. This tool allows couriers to take an active part in developing demands and making decisions without having to be physically present at union meetings. It is also a mobilising tool, to vote on strike actions and spread messages across the workforce quickly. If digital platforms can connect customers and couriers on demand, then this is an example of how they can be used by unions to help organise "fragmented" workers.
The potential of cooperative digital platforms
This collaborative culture fostered among organised couriers is the first step to be able to co-develop their own food delivery platforms. That is the idea behind "coopcycle.org", an open source food delivery app licensed under the peer-to-peer foundation and co-operatively managed by its developers and any riders who want to use it. A forum of food couriers from across Europe are planning to implement it in France and Germany, while riders in Spain are on the verge of launching their own cooperative version of the Deliveroo app in Barcelona.
These co-owned delivery platforms could offer a meaningful business alternative to Foodora, Deliveroo, Uber Eats and co where the profits of the company go to those who are actually "driving" it, and where workers can enjoy better working conditions, safe contracts, sick pay, holidays and above all, respect.  Co-ownership wouldn't just mean sharing the profits, it would also mean  democratic governance and accountability, as well as transparency on the use of workers' data, and the functions of the algorithms that dictate couriers' day to day work.
A cooperative business could also offer competitive prices. While Deliveroo charges an extortionate 30% to restaurants for each order, a cooperative model could reduce this charge once core costs are covered. For example, once an order reaches over £15 the cooperative has made enough to cover the rider's wage and other outgoings, meaning orders over that amount could become cheaper.
These cooperatively run food delivery platforms would present a different vision from that of Silicon valley, a radical move away from the obsession of attracting venture capital to make short term speculative profits for a rich few. The platform economy isn't going anywhere anytime soon, and monopoly digital platforms are further reducing workers' slice of the pie. But examples emerging from Spain, France and Germany show how the power of unions and cooperatives can be combined to push back against gig employers, and offer a glimpse of hope for the future of delivery platform work.